don't worry, the druids are ON IT
somehow the theme of this is mouths. why are there so many mouths?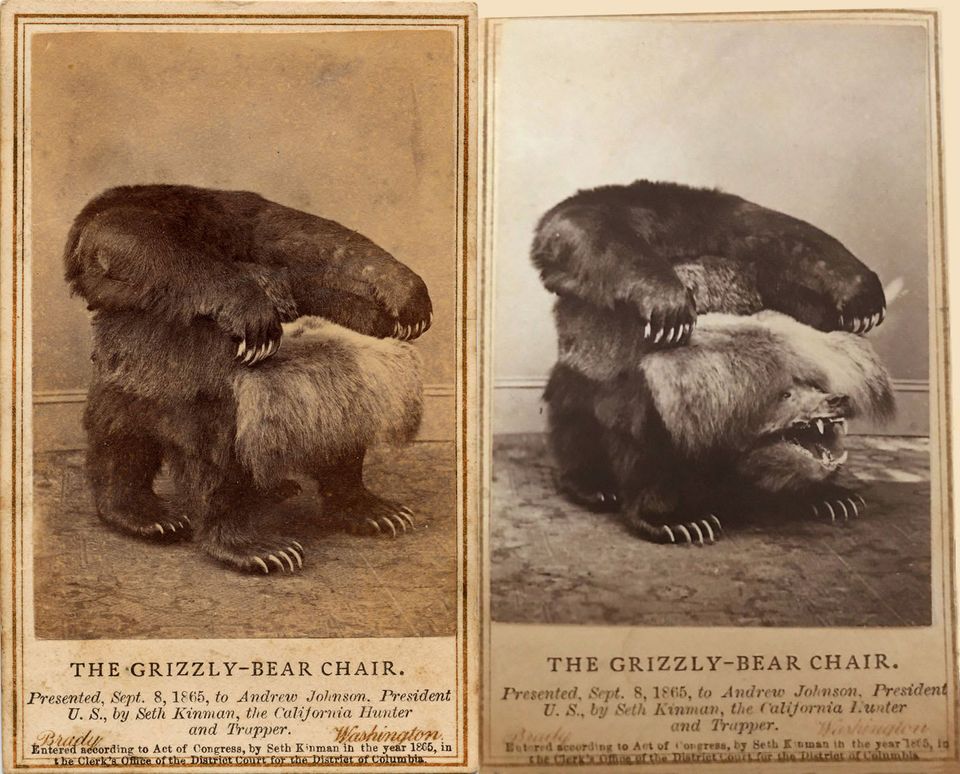 Hi friends. The week got away from me (time has no meaning, I baked bread for the first and second time, attempted a sourdough starter and accidentally used up all the flour in the house, and am reading War & Peace), but we're back, and I've found some weird things for you.
Let's dive in. First off, The Grizzly-Bear Chair, pictured above! This one actually took a while to find a carte de visite of the one with the bear head sticking out, which is crazy because it was apparently a key feature of the chair:
"the great feature of the chair was that, by touching a cord, the head of the monster grizzly bear with jaws extended , would dart out in front from under the seat, snapping and gnashing its teeth as natural as life."
It was given to President Johnson, which is truly a waste, by Seth Kinman (sidebar: does it ever strike you as odd when someone from the past has an incredibly modern name?) who was, by all accounts, quite the character, performing for President Lincoln on a "fiddle made from the skull of a mule," being in two of the funeral corteges, and claiming to have witnessed his assassination (doubtful).
Here's the chair President Lincoln got, which… ouch:
Lots of good animal content from museums. I love this postcard from the Autry Museum. Old Tex!
And this, from the Catalina Island museum (they argue she is the first woman taxidermist, that's not true)
Stonehenge has been temporarily closed, but don't worry, the druids are on it, these druids are my new favorites:
King Arthur, a druid and familiar figure at the site, kept a low profile so as not to encourage members of his Loyal Arthurian Warband to attend in numbers.
Stuart Hannington, a druid, also stayed behind the fence, accepting it was fair to restrict access…Hannington, known as the Wizard of Tottenham, and his dog, called Dog, have been camping on the plains since the last full moon and will stay for the next new one.
Yes, the Wizard of Tottenham looks exactly like you would expect.
I'm always down for a deep dive of any kind of into the mid-Atlantic accent (even though calling it a "fake British accent" seems not quite it, but the article is really in-depth). Remember those round tones, everyone:
And honestly, I just ended up watching the entire Moses Supposes number, so please go at it:
A different kind of mouth shape (and bonus: one that gives me nightmares)
Palate cleanser, this student film from 1991 where Shinya Takeshita from Osaka Art University plays every single role in Godzilla.
Finally, everyone is playing Animal Crossing! But I love that Shing Ying Khor recreated Marina Abramović's The Artist is Present in the game—including inviting people to her island to visit (!), and it is now competing with Marina Abramopug for my favorite riffs off this piece:
Etcetera: Vampire bats 'French kiss with blood' to form lasting bonds