fantastical ways to decorate the home
fossils, skulls, and cursed objects are my personal method of décor tbh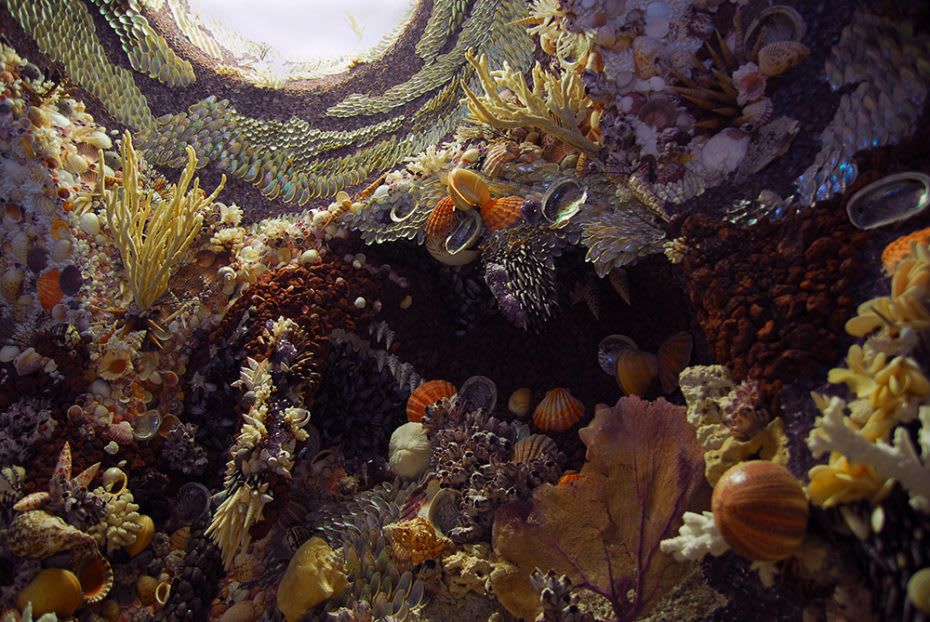 Let's look at the history of the shell grotto—which goes hand in hand with general folly-making of the upper classes (in this case, a folly is a fake structure, usually a ruin, that people would build on their estates, often with an "ornamental hermit" (!) and in one memorable case, to hide his brother's fancier mansion. I love the idea that there are people like Blott Kerr-Wilson (in fact, she's one of the only ones) who restore these old rooms as well as create new commissioned work (see above, part of a skylight, I am overwhelmed with how gorgeous this is)
Through this I also found out about the existence of Follies magazine - the international magazine for follies, grottoes & garden buildings. Also, if you're looking for furniture for your personal shell grotto, may I recommend these chairs (which also look like they'd be at home at the Madonna Inn)
In a very different way to decorate one's home, the Guardian interviewed Florence Fang, owner of the so-called "Flintstones House" in the Bay Area. Honestly, I respect how committed she is to her aesthetic, despite the local (very wealthy) who have been working against this home since it was built (actual comments from their style guide: "The problems presented by poor modernist design are particularly acute in a town such as Hillsborough, where Modernism is not the predominant style")
Regardless that we would be hard-pressed to call this capital M-Modernist, the descriptions of the insides are fantastic:
There are simply too many delightful surprises, from the life-size Teenage Mutant Ninja Turtle toys in the guest bedroom to the glass octopus on the wall in the foyer ("An octopus is always good company," Mrs Fang points out)
I have never thought about the fact that a) emus would incessantly ring a doorbell, and b) that creating a bird-proof doorbell just… is adding a bird head to it that's big enough to prevent their beaks from getting in. Also the emus look so stymied!
As we count down to Thanksgiving, Sean Sherman, a member of the Ogala Laokta Oyate (his company is called The Sioux Chef, which is still the greatest name) shared some recipes with the NYT, and talking about his journey researching & learning to cook pre-contact Indigenous foods (no wheat flour, sugar, dairy, cane sugar, beef, pork, chicken… to start).
Through my career as a professional chef, opening restaurants and cafes in Minneapolis, I gained experience cooking Italian, Spanish and other European cuisines. But it wasn't until I spent time in Mexico, observing how closely Indigenous people live to their culinary traditions, that I realized I had very little idea of what my own ancestors ate before colonization.
Public Domain Review has some amazing chromatic type samples from Specimens of Chromatic Wood Type, Borders, Etc. (1874). Also, a neat look at the Grabhorn Institute (a type foundry / press hybrid) in SF, where Brian Ferrett, one of the last people who casts lead type in the world works.
Facts like these truly make my day:
Keeping with a bookselling tradition dating back centuries at least, the press also offers a few sets of unbound printings for someone who wants to hire their own bookbinder.)
Werner Herczog is in the new show The Mandalorian, and this interview with him is just gold:

Etcetera: Rod Stewart is apparently an avid model railway builder. In England, you can camp in abandoned medieval churches. Female librarians on horseback delivering books.